Jayco Kiwi 23
Rvs for sale
- 40 found
Rvs
super clean hybrid!! These do not last long so act fast!! :-)
1 month ago
on RVUSA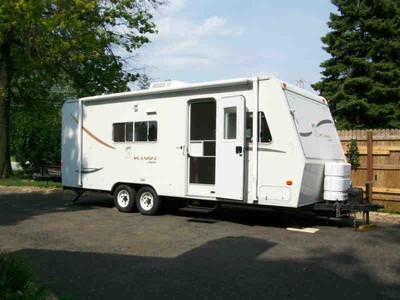 For sale is a nice used 2001 Jayco Kiwi 23B. The unit is an expandable trailer that sleeps 8 people
1 month ago
on ebay.com

(267) 953-8146 ext.683 2000 Jayco Kiwi 23B Travel Trailer For the price of a fold-down, you can
(267) 953-8146
1 month ago
on ebayclassifieds.com
Pre-owned 2003 Jayco KIWI 23D for sale in Liberty Lake, Washington State, 99016 2003 JAYCO KIWI 23
1 month ago
on AutoShopper
,936 GVWR 4,550 CANNOT SELL BEFORE MID TO END OF JUNE Length - 23'7" Sleeps - 8 Fridge - five CU. FT. Heat
1 month ago
on RVUSA
Good starter unit. Lots of space and storage. Shows some wear but definitely not worn out. Appliances all work. Awning has wear but is fully functional.
1 month ago
on RVUSA
This Kiwi is a neat, lightweight little hybrid trailer with a lot of good years left in it. For
1 month ago
on ABC13 Classifieds
2000 Jayco Kiwi 23B Travel Trailer For the price of a fold-down, you can have a travel trailer that
1 month ago
on RVT Classifieds
40 Results for used Jayco Kiwi 23 for sale
Craigslist.org is no longer supported.